"Languages at the heart of learning: 25 years of inspiring innovation" (Graz, Austria, 5-6 December 2019)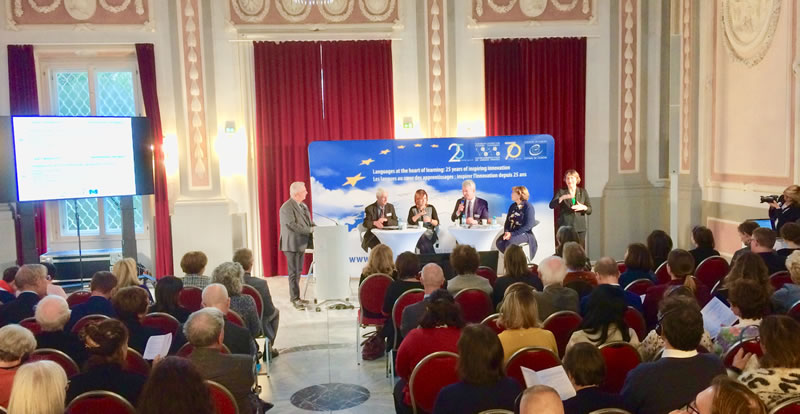 On 5 and 6 December 2019 the European Centre for Modern Languages of the Council of Europe organised a high-level conference to celebrate its 25th anniversary (as well as the Council of Europe's 70th anniversary) and reflect on the important contribution made by the Centre to the field of language education. The event also showcased the results of the ECML's current programme – Languages at the heart of learning – and launched the next programme 2020-23 – Inspiring innovation in language education: changing contexts, evolving competences.
The conference combined plenary sessions more focused on key political challenges related to language education, with break-out sessions where particular aspects of language education were examined in greater detail, including the range of tools and capacity-building activities organised by the Centre to help bridge the gap between policy and practical implementation.
A Conference Declaration with the dual aims of highlighting the key contribution of quality language education to democratic societies and acknowledging the challenges that need to be addressed was discussed at the conference, with a final version to be issued in early 2020. As such, the Declaration could pave the way for a Council of Europe Recommendation on Quality Language Education.
In total around 210 participants attended the conference and its dedicated sign languages event. Over 1,600 viewers also followed the event via livestream.
Dedicated conference web section (livestreamed videos, programme, presenters, photo gallery)
History of the ECML in pictures
Social media hashtags: #ECMLconference #25ECML #70coe
——————————————————————————————————–
ECML Executive Director signs the second Memorandum of Understanding with FIPLV Secretary General Terry Lamb in Graz, 2016


What is the ECML?
The ECML is a Council of Europe institution based in Graz, Austria. In cooperation with the Language Policy Division of the Council of Europe, the Centre functions is working for reform in the teaching and learning of languages.
It assists its stakeholders in member states in bringing language education policies and practices together.
Find out more about the ECML on the website. (in English and French)
Le CELV est une institution du Conseil de l'Europe siégeant à Graz, en Autriche. En coopération avec la Division des politiques linguistiques du Conseil, le Centre est un catalyseur concernant les réformes dans le domaine de l'enseignement et de l'apprentissage des langues.
Here is an information sheet about ECML in Italian prepared by FIPLV Vice President Paolo Balboni for the publication EL.LE 3,3, 2014: http://edizionicf.unive.it/riv/exp/46/28/ELLE/9
———————————————————————————————————
Professional Network Forum (PNF)
FIPLV is part of the Professional Network Forum (PNF), which meets each year at ECML in Graz, Austria. Further information can be found here.
The latest meeting took place in December 2018 where FIPLV was represented by the then Vice President Judith Richters (see photo below). The report of the meeting will be uploaded on the ECML site at the link above when it is finished. For now, here is an ECML update on their activities.
———————————-
Presentations from Conference on Quality Education
Under its Chairmanship of the Committee of Ministers, Austria held a High Level Conference on Quality Education on 20-21 March 2014, in cooperation with the European Centre for Modern Languages of the Council of Europe, in Graz, Austria.
The conference "Quality education and language competences for 21st century society: traditions, challenges and visions" examined the definition of quality education in contemporary mobile and diverse societies with a particular focus on the role of language education, thus highlighting the work of the European Centre for Modern Languages.
The conference was livestreamed as well as incorporating specially commission films. We are pleased to inform you that the pages for the conference from March 20th-21st  have recently been updated, and the presentations are available for you to watch. 
Please take a look at the pages:
http://www.ecml.at/News/Conference20143/Livestream/tabid/1561/language/en-GB/Default.aspx
http://www.ecml.at/News/Conference20143/Videos/tabid/1579/language/en-GB/Default.aspx
Bonjour à tous,
Nous sommes heureux de vous informer que les pages de la conférence du 20 au 21 Mars ont récemment été mises à jour. 
Pour plus d'infos, veuillez consulter les pages :
http://www.ecml.at/News/Conference20143/Livestream/tabid/1561/language/fr-FR/Default.aspx
http://www.ecml.at/News/Conference20143/Videos/tabid/1579/language/fr-FR/Default.aspx
———————————-
Share your ideas and views  on Quality education:  conference and blog
 Dear colleagues,
In preparation for the conference "Quality education and language competences for 21st  century society: traditions, challenges and visions", on 20 -21 March 2014, the European Centre for Modern Languages has launched a blog to get your views as language professionals on 3 topical issues in education:
Learning spaces and learner autonomy – what role can the physical structure of the classroom play in influencing and motivating learning? Does it play a role in fostering learner autonomy? What are the key factors contributing to the development of learner autonomy?
Using technology in the classroom – how is the fast-moving world of technology changing the learning environment and to what extent can the teaching profession harness it as a force for improving language competences?
Plurilingual education – with recent demographic changes dramatically altering the composition of schools  – how can we best adapt our approaches to meet the needs of today's linguistically and culturally diverse classrooms?
We would greatly value your ideas and comments on these themes where opinions among  the different stakeholders in education can vary widely. The input from the  blog  (http://www.ecml.at/conferenceblog)  will feed into a major conference which is organised under Austria's presidency of the Committee of Ministers of the Council of Europe. The event offers a unique opportunity for dialogue at an international level between language professionals, representatives of national educational administrations, civil society and international organisations and policy-makers.
You are very welcome to participate in the event in Graz – either physically (by registering on a self-financing basis) or virtually, as the whole  programme will be video streamed live via the ECML website.
For further details on the event and how to get involved, please visit our website: http://www.ecml.at/conference. We look forward to you joining us!
Partagez vos idées et vos points de vue sur l'éducation de qualité: conférence et blog
Chers collègues,
En préparation à la conférence « Qualité de l'éducation et compétences en langues pour la société du 21e siècle : traditions, défis et visions », les 20-21 mars 2014, le Centre européen pour les langues vivantes a lancé un blog afin de recueillir votre point de vue en tant que professionnels en langues autour de trois questions d'actualité dans l'éducation :
Espaces d'apprentissage et autonomie de l'apprenant – Quelle influence peut avoir l'organisation physique de la salle de classe sur la motivation à apprendre ? Permet-elle de favoriser l'autonomie de l'apprenant ? Quels sont les principaux facteurs qui contribuent au développement de l'autonomie de l'apprenant ?
Utilisation des nouvelles technologies en classe – Comment les nouvelles technologies et leur évolution rapide changent-elles l'environnement de l'apprentissage et dans quelles mesures les enseignants peuvent-ils les exploiter comme un atout pour améliorer les compétences en langues ?
Education plurilingue – Avec les changements démographiques récents qui modifient considérablement la composition des écoles, comment pouvons-nous adapter au mieux nos approches afin de répondre aux besoins desclasses linguistiquement et culturellement diverses d'aujourd'hui ?
Nous vous serions très reconnaissants de partager vos idées et commentaires sur ces thèmes où les opinions entre les différents acteurs de l'éducation peuvent varier considérablement. Les contributions du blog (http://www.ecml.at/conferenceblog) permettront d'alimenter les débats lors d'une grande conférence organisée sous la présidence de l'Autriche du Comité des Ministres du Conseil de l'Europe. Cet événement offrira une occasion unique de dialogue au niveau international entre des professionnels en langues, des représentants des autorités nationales d'éducation, des organisations internationales, des décideurs en matière de politiques linguistiques et la société civile.
Vous êtes cordialement invités à prendre part à l'événement à Graz – que ce soit physiquement (en vous inscrivant sur une base d'autofinancement) ou virtuellement, puisque l'ensemble du programme sera diffusé en direct par une liaison vidéo sur le site web du CELV.
Pour plus de détails quant à l'événement et les possibilités d'y participer, n'hésitez pas à visiter notre site internet : http://www.ecml.at/conference. Nous serions ravis de pouvoir vous compter parmi nos participants!